Same day shipping / Next day delivery
The UK's home of peelable, sprayable paint since 2012


MULTIPURPOSE RUBBER COATING
Plasti Dip® is an air-dry, specialty rubber coating. In fact, it's the original peelable, flexible, insulating, non-slip, durable rubber coating. The Plasti Dip® product line provides a wide range of coating solutions from automotive customization to home improvement. With over 50 colours and enhancers of Plasti Dip®, the possibilities are endless!

ATTRIBUTES OF PLASTI DIP®:
Protects coated items against moisture, acids, abrasion, corrosion, and skidding/slipping, and provides a comfortable, controlled grip. Remains flexible and stretchy over time. Will not crack or become brittle in extreme weather conditions. Proven in temperatures from -30°F to 200°F. Peelable and removable off of most surfaces
How To Use
Spraying Tips
Videos
Authentic PLASTI DIP?
How To Spray:
Spraying (aerosol)
1. Surface must be clean and dry. For best results, avoid direct sunlight, high humidity, or breezy conditions.
2. Shake can vigorously for one full minute after mixing ball begins to rattle. Shake often while applying.
3. Hold can 6-10" from surface, moving can back and forth, slightly overlapping each stroke. Apply heavily enough to produce an even, wet appearance.
4. Allow 30 minutes' minimum between coats. Apply as many coats as desired (3-7 average).
5. Allow 4 hours' minimum dry time before use (overnight recommended). Coverage: Approximately 5-10 sq. ft. per can (1 coat). Generally 1 can per wheel.
---
Boil a kettle.
Pour into a jug.
Sit the can in the jug for a few minutes to warm it up.
Dry can and shake well.
Use as described leaving 10 mins between coats, 5 coats is best.
Leave overnight to dry and cure.

Always protect surrounding areas from over spray. Allow 4 hours per coat for complete dry. If runs or sags are experienced, move can further away from surface. To avoid clogged nozzle, turn can upside down and spray for 5 seconds. If clogged, remove nozzle and soak in naphtha or mineral spirits for 30 minutes. Do not stick pin or other objects into stem. Use naphtha, xylene (xylol), or toluene (toluol) for clean-up. To greatly increase non-skid properties, sprinkle a generous amount of grit onto wet surface of first coat. Apply at least two additional coats of Plasti Dip. For best results, use a pumice (crystalline silica) grit. Results may vary with other grit additives. When applied properly Plasti Dip can be removed from most surfaces, if desired.
---
Genuine USA made Aerosols? How to tell.
Before we go into the details, remember we have always sold and always will sell the genuine USA made aerosols ONLY
PLASTI DIP® is quite well known now. We've been selling it for years. But a lot of people don't know there are TWO versions of aerosol. The GENUINE authentic USA made aerosols, and the NOT USA made aerosols.


Whats the difference?
1 The USA ones have a richer colour it seems.
2 The USA ones have more rubber and peel better it seems.
3 The USA made ones have a better aerosol. They are more reliable.
4 The USA made aerosols NEED warming up. You get SUCH a better finish from them if you do (see vid below).
5 The NON-USA ones do not need warming up, as they have less colour and rubber in them so the rubber inside does not get thick when cold.
6 We are NOT saying the NON-USA ones are rubbish, we're saying they're not as good, NOT authentic and NOT what DYC use and sell.

So whats the problem?
Well, pretty much everyone else on ebay are selling the NON USA aerosols, even though they post a picture of the USA aerosols. What can you do? Well, look at the pictures below, you can compare to what you recieve. If if is not genuine USA made aerosols, and they are claiming they are and even using pictures of the USA made aerosols, you can return them at their cost and either request the genuine USA made ones be sent or refund.
Before ordering you can email / message them and ask if they are the GENUINE USA made aerosols, or the UK ones. If they say UK ones then you can pass on them, if they say USA ones, make sure you receive what you are asking for. Use the below to compare.
So here we have the two aerosols side by side. The left is NON USA made and the one on the right is a USA made aerosol.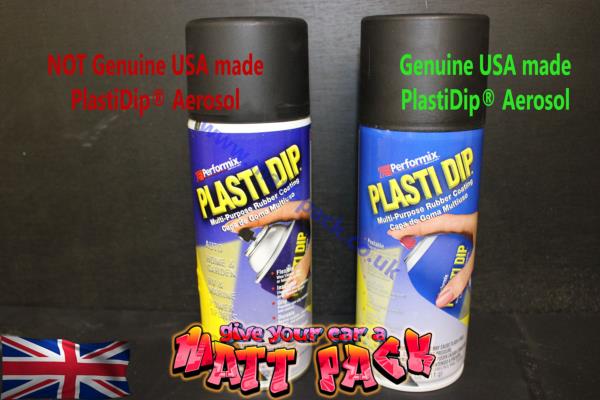 OK, so lets get the lids off. The difference is VERY easy to spot.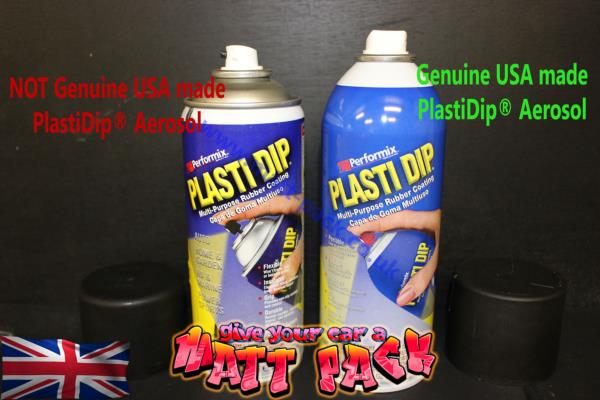 Better look at under the lids. You want the one on the right.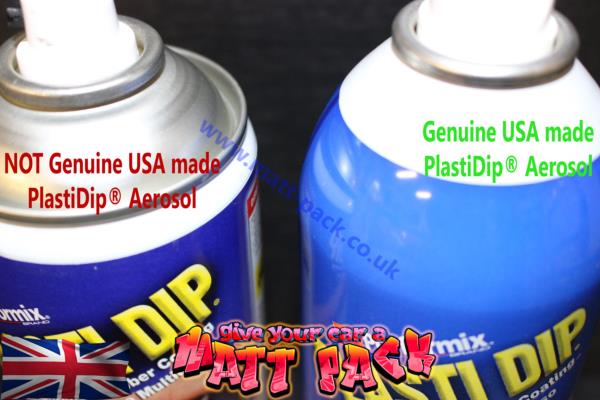 Now the clincher, look on the bottom of the aerosol. The genuine USA made ones have a serial and the colour stamped on there. So even if you lose the lid, you know exactly what colour is in the aerosol.