Training Days
---
All training takes place at our unit CB9 7UU
---
In brief what we do, what we go through:
Prep
Cleaning
Masking
Explanation of thinners and mixes
Custom colours
Mixing / creating
Applying
Finishing
Cleaning Gun
Peeling
Maintaining
All the tricks and shortcuts we learned
AVOID costly reworks.
Bring as many questions as you can think of and we will answer any we can (idea - bring a pad and pen with questions already written)
Automatic 'Trader' status in the shop once completed
This is a 1 day course. Practice will be required after to perfect. We cannot turn you into dipper extraordinaire in a few hours! It will require work on your part :)
We will do all this on the day on Spray out cards, speed-shapes and a car. You won't just be watching, you will be doing it too. We cannot do on your car, as to do properly takes 2 days. You would not be able to drive home that day with it. The car we use will already be cleaned up and masked ready to go. Here is the current trainng car, a black Clio.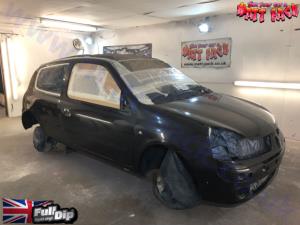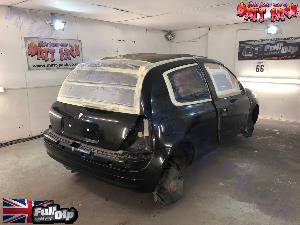 To keep your learning to a maximum we only offer a maximum of 3 spaces per day We used to do more at a time, but we weren't finishing till 9pm some days. So now we limit it to 3 which hopefully means you will learn more and quicker!.
Course is 10am till finish. Could be 4, 5 or 6 depends how long we all chat! This is YOUR chance to learn from us, we've been doing this pretty much the longest in the UK. Others learned from us then went on to do it themselves, you'll probably notice a lot of our text and descriptions on their sites too. They simply "cut & paste". I see others offering training also now, they came to us first. Or simply copy what we offer. We have heard through the grapevine the PD course is a shambles and they have no idea on the products, even trying to sell other companies products behind PD's back!!!! And they are supposed to be the official PD trainer!?!
Not only do you learn this but you get a mask included in the course (£26 worth). Not a cheap rubbish dust mask as other sellers use, a PROPER (dust, inorganic and organic vapour protection) mask that actually protects your lungs.
So why go on a course? Well dipping is easy right?! Yep, sure is, dipping a car is easy, but I have only seen a handful of people out there who can produce what I'd call a great finish. Not some of the very poor finishes people are putting out. I've had people who actually charge people to dip their cars, come to me and ask how I get so smooth. And they charge ALREADY?! If someone is paying you to do their car, they want it right, better than they could do, or what's the point? Now is your chance to learn from the pro's. At car shows there will be plenty of dipped cars in the summer. You will be able to instantly tell difference between pro finish and a home finish. Be in the pro finish category. Why do we do this? Well we have been painting cars for over 20 years now, we KNOW how to do it properly. Now you can learn. Magazines still come to us for advice and write ups. We're always doing another project for some magazine or other.
So, in summary, you will learn everything you need to go on and dip cars professionally, using the correct materials. We go through the various mixes, creating custom colours right through to cleaning the gun. You get to have a go, and make sure you've got it nailed before you leave. You also get a free mask to take home. You also do not get charged for any dip we use or products. It really is a no brainer. And to top it all, lunch at a top local pub is INCLUDED. Not a shoddy greasy spoon, but a really good place.
We even run the courses on Saturdays to maximise your chance of fitting it in around your time or current job.This is a great way to earn a few quid at the weekends, once you've mastered it. We will give you the basics and the knowledge. All you will have to do is go away and perfect it. But you will have enough knowledge and confidence to start dipping after this. You won't ruin your first job and have to peel it all off.
How much is this? It's the great value of £275. For a whole days learning. And a FREE mask! Even a free lunch! You can reap this back in one job easily. Whereas go it alone and have one job come back and it will cost you more than that in reworks. Vinyl wrapping courses are £1500 plus easily.
https://www.flyingshuttlepubhaverhill.co.uk/
https://www.flyingshuttlepubhaverhill.co.uk/menus/
Choose the LUNCH Menu. The more time we waste here, the less we are learning and spraying!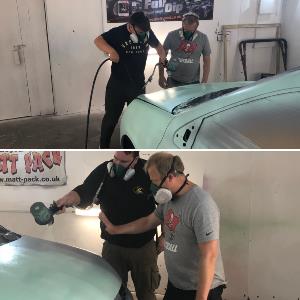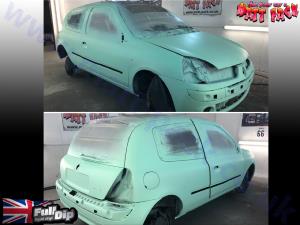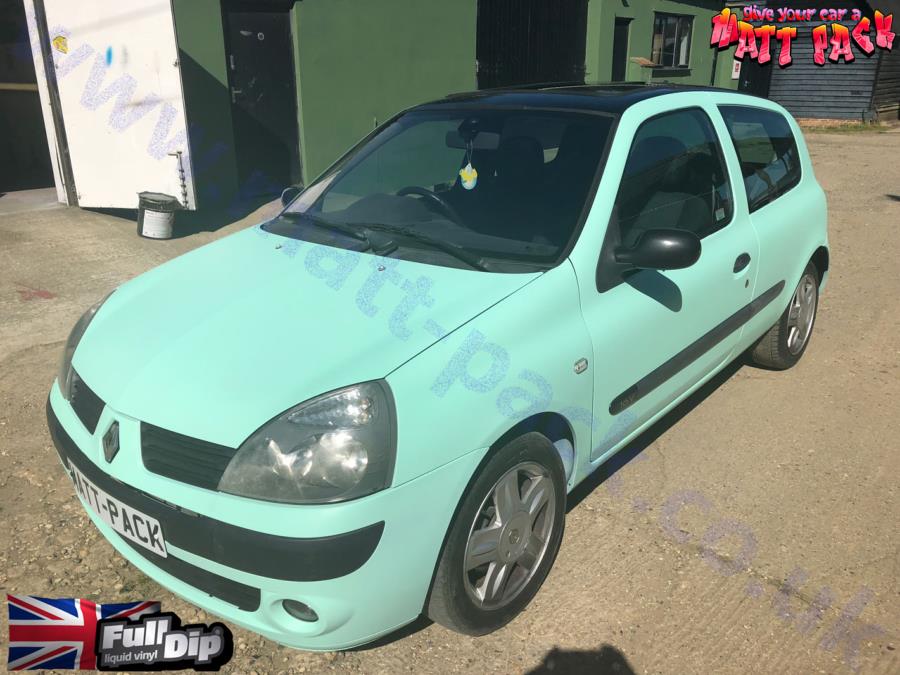 ---
Yep, ONLY £275
See the TRAINING tab in the shop to book
Next Dates;
SATURDAY SEPTEMBER 11th - FULLY BOOKED

SATURDAY SEPTEMBER - 25th - FULLY BOOKED
SATURDAY OCTOBER - 16th - FULLY BOOKED
SATURDAY NOVEMBER - 6th - FULLY BOOKED
SATURDAY NOVEMBER - 27th - 2 SPACES LEFT
All course dates may be changed without notice with / without attendees. All courses are minimum 2 people. If less than 2 people with a week still left it will be cancelled / moved. Any attendees can change date or refund if WE cancel.
See T&C for full cancellation details.
Training Bookings and Cancellations
The training fee is refundable depending on the amount of notice;
Over 4 weeks 100% (£100.00)
Over 2 week 50% (£50.00)
Over 5 days 30% (£33.33)
Over 3 days 20% (£20.00)
Over 1 day 10% (£10.00)
Less than 24hrs 0% (£0.00)
By booking you are accepting these terms.
The reason for this, is we have had 1 or 2 no shows and it is not fair, as we have turned people away from fully booked days. This is here so we now have a fully established clear set of rules before hand.
---
We will soon be offering an onsite training program. We come to you, at your premises and go through the process. Email us for more information and a bespoke price.