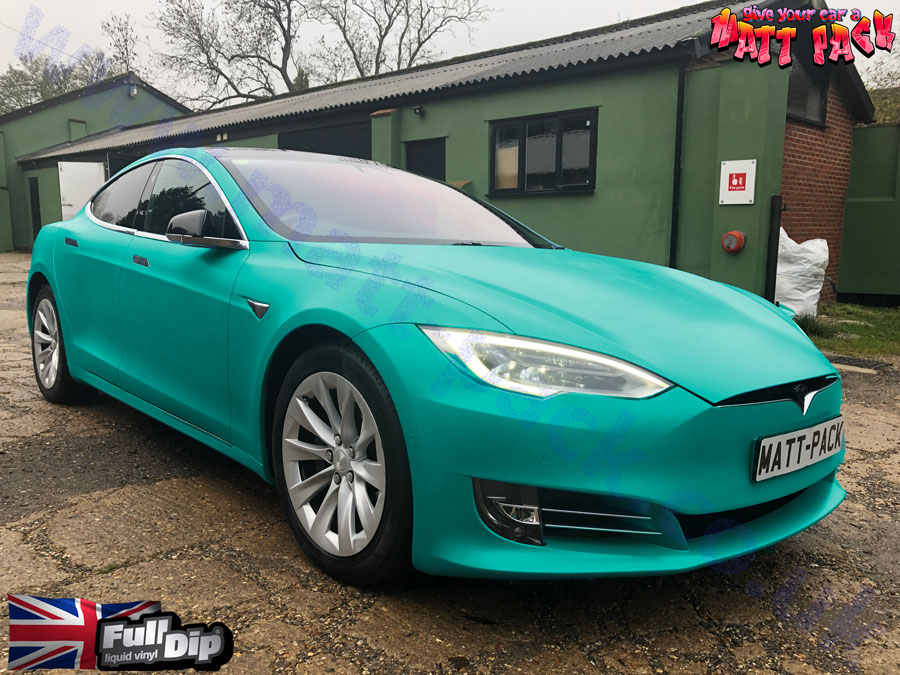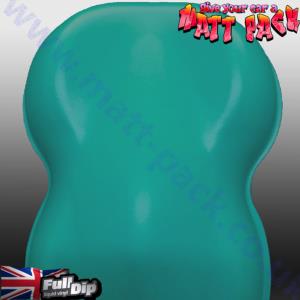 FullDip Matte Kingsley Blue (shown).
ALL colours are MATTE as standard.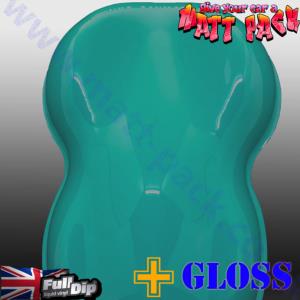 FullDip Matte Kingsley Blue (shown).
PLUS gloss topcoat (FullDip Super Gloss shown).
Kingsley Blue is a NEW colour. Scroll down to see all Kingsley Blue items. Click BUY to buy an item, or click on the picture to get more information about the product.
INFO
Kingsley Blue is an easy colour to do.
We recommend using the grey primer base. As an option to make the green brighter, we would add white after the grey primer, then the Kingsley Blue.
This will give a matte finish.
You can topcoat it with satin or glossifier to alter the finish. Or our PRO gloss & matte finishes to add fuel resistance.
You can make this metallic by simply adding the 'Metallic Maker' (see bottom).
APPLICATION
2 light dust coats of primer grey.
2-3 wet coats primer grey.
Then at least 3 or 4 full wet coats of the Kingsley Blue.
EQUIPMENT
Earlex HV2901, MS3000, FullDip FD650 or usual compressor setup 1.7-2.0 tip at 20-28 PSI
Remember on compressors, the higher the PSI, the more you waste as it floats away in the air. Yes it will be smooth, but difficult to peel as most will be on the floor. So try to go as low as possible. We find great results vs waste at about 25 PSI.
Aerosols
Self explanetory, shake and spray.
FullDip cans are 400ml.
Plastidip® aeros need warming.
Fulldip cans do not, but its a good habit to get into with ANY aerosol.
Sprayable
Fulldip 4 litre. Ready to go, shake, stir and pour into hopper and start spraying :)
Tinters / Drop-Ins
No measuring needed, simply pour the contents of the tinter into a CLEAR FullDip 4 litre or 1 US Gallon of PDS.
Make sure shake well and you get ALL the colourant out. Sometimes pigment settles and clumps at the bottom
You can add to another colour, but they are designed for a CLEAR
Instructions and video HERE
Wheel Kits
Will give you the base colour and colour to acheive the requested (shown above) colour.
Come in a matte or gloss finish
See our wheel kit explanation HERE
These kits will usually do upto a set of 19" front faces perfectly.
Starter Kits
Order the correct kit in these stages;
Get the correct size for your car (email us if required)
The kit comes with a FullDip FD650. Upgrade gun to an Earlex HV2901 or and MS3000 (you can choose once you add a kit to the cart)
Add a PRO addon kit if required.
Add some Glossifier to make shiny.
Plastidip do not do this colour. You can make it easily though. Use a 1 US Gallon PDS and add a FulDip Drop In. Mix and you have a PlastiDip sprayable version.