Same day shipping / Next day delivery
The UK's home of peelable, sprayable paint since 2012
Reward Points
Introducing the Matt-Pack Reward Points.
We used to have this system a few years back but it was unreliable, we have a new one now and is working much better :)
So basic outline;
Every two pound you spend, you earn 1 point, £2 = 1 point. You can then redeem on future orders, giving you a discount of £1 for every 50 points.
Points and discount on later orders, cannot be more than 50% of total order cost (again, largest we could set it to).
Clearance items do not earn points.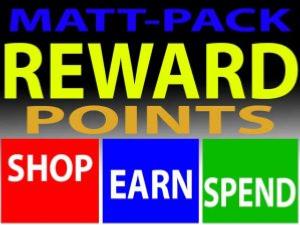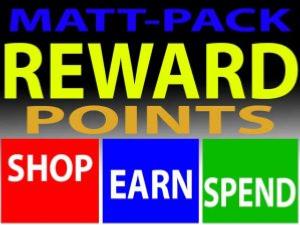 Earn yourself extra BONUS points for FREE!!
100 POINTS
If you leave a positive review for a product you have purchased (on the website) inform us, we will check it out and you will earn a bonus 100 points for free! (£2 worth)


150 POINTS
If you like and share one of our Facebook posts (https://www.facebook.com/mattpackltd) you will earn 150 points for free! (£3 worth)


200 POINTS
If you leave a 5* review on our Facebook page, let us know and you will earn 200 bonus points for free! (£4 worth)
Once you have done this, we then need an email from you so we know which account to add these bonus points to (attaching a screenshot of the Facebook share helps validate).
The points expire after 2 months, this was the longest setting we could set, it still gives you plenty of time to use them up though. After this they disappear. You do not lose all the points, from all orders, just the ones that pass the expiry date.